Welcome to Lumen Photon Therapy

Your Light Therapy Source

Proudly Made in the USA!!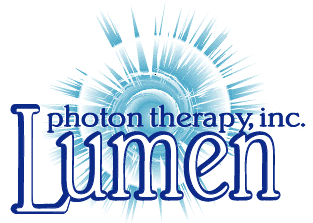 The FDA has approved our powerful, conveniently-sized models
as capable of offering:

Increased local circulation (important for people with restricted circulation in the extremities)
Reduction of pain (neck, back, joint, etc.)
A Brief Introduction to Light Therapy:
Light Therapy is a relatively new field of treatment. (more information) It can be of help to people with widely ranging ailments such as soft tissue injuries, fibromyalgia, repetitive stress disorders,TMJ, chronic pain syndrome, carpal tunnel syndrome, degenerative joint conditions like arthritis or bone spurs,sinus problems, or headaches.
National Geographic Magazine™ calls light therapy "light that heals" in their January, 2001 edition.
It's an adjunctive therapy which supports and accelerates healing; it can be combined with many other forms of treatment for exceptional results.
Lumen Photon Therapy Inc.™ is an innovative leader with 18 years experience in the field of photon therapy. Lumen Photon Therapy, Inc.™ is a company founded upon a deep ethical commitment to expanding the field of photon therapy and supplying the best possible equipment, offering powerful clinical potency at the most affordable price.